Swimming at lake Pressegger See
Surrounded by mountains, forests and meadows is our, in summer pleasantly warm Pressegger See.
In the most beautiful time of the year, the Pressegger Lake warms up to 28 degrees and is ideal for cold-sensitive water enthusiasts to plunge into the "warm wet". For a holiday in our house you have free entrance to the "beach bath Oswald", only 2 minutes to walk from our house. Swimming, sailing, windsurfing, SUP, Minigolf are among the most popular bathing and leisure activities.
Tennis, sauna, massage, fitness center and the "first Carinthian adventure park" are reachable from our house by car in 5 minutes.
Links:
If, exceptionally, we do not have weather suitable for swimming, our lake and our forests invite you to take a walk.
Around our lake, the children are in the realm of the "LAKE WITCH". In about an hour you can circle our Pressegger Lake and make some intermediate stops – like in the new adventure playground of our "LAKE WITCH", the grass maze or the other small stations of the round trip.
The Rock "Muttergottesfelsen" and the "Ruine Khuenburg" are always worth a trip and you can start directly at our house.
The district town of Hermagor is located at the mouth of the Gitschtal valley in the Gailtal valley. Hermagor offers a wide range of shops and restaurants, where you can get everything you need, or simply stroll through the nice streets.
Link: hermagor.at
The magnificent landscape of our Gailtal Valley offers high mountains, gentle alpine pastures, imposing gorges, wide valleys with a fantastic view of the mountains of the "Karnische and Gailtal" Alps.
A hike to our "house mountain", the "Poludnig", from which you have a fabulous view of our lake, is highly recommended. Also our nearest farmed Alm – Egger Alm and the Dellacher Alm, as well as the gorge "Garnitzenklamm" offer undisturbed hiking pleasure. If you want something more adventurous, then you can also go directly from our house to mount "Spitzegel".
"Nassfeld" – in winter the largest ski area of Carinthia and "Fun mountain" Nr 1 – opens up a variety of hiking trails and culinary experiences for hikers and mountaineers.
For climbing enthusiasts "Nassfeld" and other mountains in close proximity offer several climbing routes to rise to dizzying heights.
Links:
Cycling - Mountain Biking
Cycling and mountain biking can be started directly from our guesthouse. The "Karnische cycle path" runs along the entire "Gailtal" valley – off main roads along meadows and fields. Alongside the cycling paths are interesting sights with lots of rest stops, which offer culinary specialties.
We offer bicycles for rent free of charge. Please inquire at the time of booking (Bicycles on request and availability).
If you do not want to bring your own bicycles, you can borrow bicycles in various specialty shops (Papin bike rental in Hermagor, NTC SPORT Sölle in Tröpolach, Bikeparadies Härle in Hermagor, Alpencamp Kötschach Mauthen)
Link: papinsport.com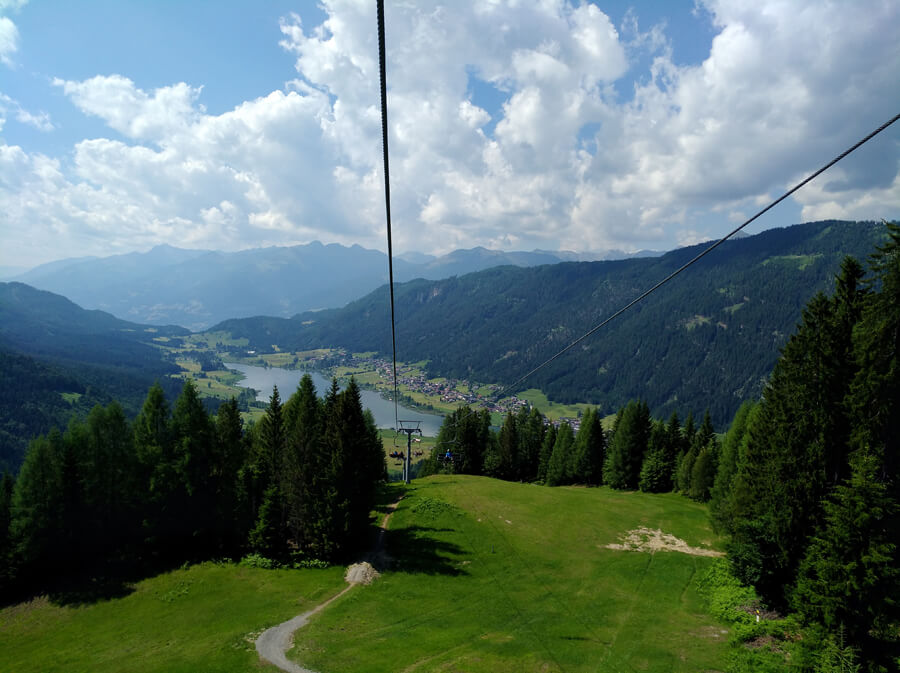 Our "Kärnten Card" offers a wide range of top excursion destinations and attractions all inclusive!
Daily you can have a range of over 100 different destinations, 4 super bonus partners with 50% discount, over 55 bonus partners with discounts and a 50% discount on bus and train.
Mountain railways, boat trips, animal parks, museums, high alpine roads – there should be something interesting for everyone.
We ourselves take the Kärnten Card every year and enjoy the diversity of the different trip offers. If you have any questions regarding different aims, do not hesitate – ask us!
You can find more information about the Kärnten Card at …
Link: kaerntencard.at